An Animistic World: Medicine walk and at-home retreat to catch your story.
Sun 26th Nov 2023, 9am – 1pm EST (UTC -05:00)
Online
Receive the wisdom of nature as supportive guidance for your life.
Have you ever felt completely held by nature or have you ever received guidance from the other-than-human world?
Do you long to deeply restore your nervous system, intertwined as one with nature?
From a pan-indigenous perspective, everything is alive, the trees, plants, stones, river, wind and so much more. But in a world where we are conditioned to believe sentience is much more limited than this, how do we access this vibrant world of inter-connection?
In this mini at-home retreat we will hold you through an experience of a 'Medicine Walk', where through connecting with the animistic nature of the world you will receive support and guidance for your life.
A medicine walk embodies a way of being in deep relationship and conversation with life that profoundly enriches our personal understanding of ourselves and our journey through life. It is the gateway to a way of being that has only shifted since the birth of industrialised society, the way our deep ancestors lived.
At this late Autumn time the cycle of life will be almost complete for this turning of the wheel of the seasons. What will be whispering in and to you, waiting to be heard? When you allow your body to deeply connect with the Earths Body, what will nature share with you?

Ways you may benefit from this work:

A deepened relationship with the animate world
Guidance and direction for a circumstance or challenge in your life
A resourced nervous system through slowing down and being with the natural world.
Experience the particular quality and 'medicine' of the season and time of year
Learn a profound life skill for living in deeper connection with life
Find or deepen your sense of belonging with the other-than-human world
Orientate yourself to an eco-centric world view

What to Expect:
Guidance from experienced nature connection practitioners on a solo land ceremony called a 'Medicine Walk'
Working with an intention and slowing down with the autumn to support you with a particular circumstance or challenge in your life, or simply to pause and reflect at this powerful time of changing seasons
Experience the power of community-based personal story-telling and story 'catching' of your medicine walk, for integration, further insight and strengthening the ropes of connection between people
Receive teachings on how deep nature connection practices are the foundation for shifting our culture and repairing the divide between humanity and the other-than-human world.

How it works:
Once you sign up you will receive your medicine walk invitation video with guidance, instructions and the invitation to create your own solo land ceremony. You will also receive a sensory medittaion audio recording to support you to access the gateway to your relational body, your senses. Your medicine walk will be the back bone for the day retreat so it's important you create space for this to benefit from this experience.

You will need roughly 3 hours and time in a wild place in the two week lead up to the event. The guides will be available via email if you have any questions about this.

Then we will gather on Oct 21st live on zoom to 'catch' your story, supporting you to go deeper with the experience of your medicine walk, and to integrate the distilled wisdom into your life. You will also have the opportunity to learn from other people's stories.
During this live session we will also be sharing wisdom from the 8 Shields map of deep nature connection practices and cultural repair, exploring how practices such as the medicine walk are the foundation to shifting our culture to be shaped by nature-based regenerative principles and patterns.
Facilitators
Sky-Maria Buitenhuis
As well as co-founding GIFT (Global Institute of Forest Therapy) and the Association of Nature and Forest Therapy, Sky has over a decade of experience guiding and training people in deep nature connection journeys. As a nature connection and cultural repair guide, she draws on many modalities, indigenous teachings shared directly by wisdom-keepers of their traditions as well as her own on-going personal journey of remembering and embodying her most enlivened natural state of being. Her passion is to offer people the experience of 'coming home', being deeply moved and nourished by supporting and witnessing others having an embodied, innately human, experience of returning home to wholeness through deep nature connection practices. Currently she runs VillageNature, offering year-long immersions in the 8 Shields model of deep nature connection and repairing our culture.
What makes her feel most vital is communing with the Earth in various ways! Such as wild-crafting with her hands, tracking animals, wild swimming and sitting quietly and listening out on the land. She also loves to dance, to sing and catch songs, teach body literacy to women, and reading and writing poetry.
'Skys ability to teach, conveying all the pertinent information, while modelling what is possible to grow into, is phenomenal' - Womens Wilderness Skills participant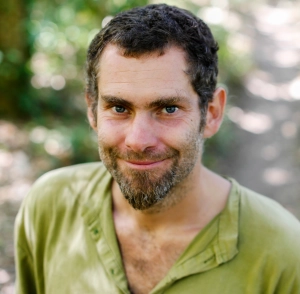 Peter Cow
A heartfelt facilitator and culture designer, Peter has been involved with 8 Shields programs and events since 2011, and also teaches Permaculture courses, specialising in 'People Permaculture' (social and personal regenerative design). He co-creates immersive and empowering learning experiences that connect people more deeply to nature, themselves and their community. Currently he runs VillageNature, offering year-long immersions in the 8 Shields model of deep nature connection and repairing our culture.
Peter lives on a farm in South Dartmoor, where he enjoys wild running, cold swimming, chopping up wood, listening to birdsong and singing to himself.
Select tickets
This event started 7 days ago
Your details
Feedback on Sky-Maria Buitenhuis & Peter Cow's events