Dragon Dreaming Foundation Course
Tue 8th Mar 2022, 6pm – Fri 18th Mar 2022, 8pm Berlin (UTC +01:00)
Online
A 2-week learning journey for people stewarding collaborative projects.
With Manuela Bosch (Dragon Dreaming Training)
Alma∞Omega (Embodied-Dance Ritual)
Tom Little (Noongar Knowledge)

7th - 18th of March | 9 online live sessions | from 6pm CET and a Saturday
⧞

Do you believe in visionary undertakings birthed & manifested collectively?
If you have ever seriously tried to realize a visionary project together with others, chances are you might carry a wound from it.
This wound rarely has to do with the project itself. It mostly comes from failed collaboration. It sometimes seems human-kind just isn't made for it.
And yet, we are so deeply in need of working together. In order to change our social, ecological and economic realities we need visionary endeavors led by strong groups.
If you believe in your deep-seated visions and dreams--and are ready to keep doing things together in order to consequently grow your capacity for collaboration--then Dragon Dreaming is for you.
⧞


What this course includes
⧞
Dragon Dreaming is a model and creative process for planning a project collectively
Dragon Dreaming weaves a new story on how to build community, while realizing regenerative projects together.
The Dragon Dreaming process starts with transforming individual dreams into a collective vision, and ends with a map for a collective journey. Practically, this means listening, talking, writing and mapping, as well as playing and moving our bodies, as tools for weaving, listening, integrating and manifesting.
In our foundation workshop we are listening to stories, absorbing theoretical knowledge, are putting the methods into practice, and we celebrate community through sharing, dancing and play.
⧞
In Dragon Dreaming different wisdom sources are combined
Vivianne Elanta and John Croft gave birth to Dragon Dreaming in the 1980's, through integrating their practical experience in community and environmental activism projects, with the education for liberation ideology of Paulo Freire and other thinkers in non-formal education.
Gregory Batesons' living systems theory, and Joana Macys' experiential Deep Ecology, amongst others, further shaped the model and values behind the framework.
Dragon Dreaming is deeply inspired by the mythology of the Noongar people of western Australia: the connection to their land, the understanding of time as a cyclical process, and the importance of community and celebration in everything they do.
The philosophy and practice of Dragon Dreaming opens up an opportunity to remember what we seem to have long forgotten: the capacity to live in deep collaboration with life itself.


⧞
Regenerative process for regenerative projects
As the becoming and going of nature is guided by the seasons Spring, Summer, Fall and Winter, the becoming and going of a regenerative project is guided by Dreaming, Planning, Doing and Celebration.
In Dragon Dreaming we are learning to balance the mind (theory) with the body (practice), as well as inner and outer change. When this balance is reached, a project can sustain itself.
Dragon Dreaming aims to be useful for different people: those strong in thinking as well those in doing, the introverts as well as the extroverts. All together they make a successful team.


⧞
Rhythm of our journey together
9 online sessions over 8 days, 2-3 hours each
Tuesday, 8th of March | 2h (6-8pm CET) – Opening Ritual - The Dragon Dreaming Philosophy
Wednesday, 9th of March | 2h (6-8pm CET) – The Process: Dreaming, Planning, Doing, Celebration
Thursday, 10th of March | 3h (6-9pm CET)
 – Dreaming: From individual Dream to group Vision
Saturday, 12th of March | 2h (12-2pm CET) – Aboriginal Source: Learning from Noongar Culture
Saturday, 12th of March | 2h (8-10pm CET) – Celebration: Co-created Dance Ritual
Tuesday, 15th of March | 3h (6-9pm CET)
 – Planning: Grounding the Dream with Objective
Wednesday, 16th of March | 2h (6-8pm CET) – Doing: Karabirrdt, Linear/Non-Linear Roadmap
Thursday, 17th of March | 2h (6-8pm CET)
 – Open Space: for Questions and Stories
Friday, 18th of March | 2h (6-8pm CET)
 – Celebration: Evaluation, Integration - Closing Ritual


⧞
Logistical requirements
* A space where you can move (4sqm+) that is in sight of the camera and where you feel safe and undisturbed.
* A computer with camera and speakers/microphone (so you can also hear, when you move around)
* Internet-connection (with good bandwidth, if you can influence that).
* A notebook and pen.
* Comfortable Clothes, comfortable seating.
* Something to drink/snack accessible for the breaks.


⧞

Financial contribution
360,- Euro / Circles regular Single-Ticket (yep, I can and want to invest into this)
250,- Euro / Circles early-bird* Single-Ticket (I'm tight with money right now)
960,- Euro / Circles regular Group-Ticket** (3-5 People--yep, we can spend some budget for this)
690,- Euro / Circles early-bird* Group-Ticket** (3-5 People--our budget is super small right now)
*Early-brid ends 1st of March.
**Group-tickets for any groups, also for spontaneously formed learning groups.
To pay in Circles transfer the whole amount to @VanillaWay Circles-Account, then book here. Learn more about circles.garden.
Native People coming can request a full scholarship.
People working on projects to support Ukrainians can join on gift-economy-basis.
People with difficult financial situations, reach out for support.
For questions on all of the above, write to info@vanillaway.net.



⧞
About the facilitators and speakers
Manuela Bosch guides transformational social experiences in groups with unconventional techniques, including body, awareness & nature rites.
As host of Collaboration Incubators, she facilitates synergetic connections, trust and intimacy building. As advanced Social Presencing Theater practitioner, she connects and moves people beyond words. Through nature rites and vision fasts, she guides to meet ones innermost being. In her recent body of works she is exploring human-positivity through sensuality, touch and playfulness. At the moment she is co-stewarding a global commons for cultural collaboration, out of the cultural hub MOOS Berlin.
Manuela teaches Dragon Dreaming since 2011 and brings a vast practical experience with intentional communities, cooperatives, NGOs, creative environments. She is well networked with the global trainer community and finds herself as a building bridges between cultures, communities and networks.
https://linktr.ee/manuelabosch
Maegan Gorbett / Alma ∞ Omega dedicates her life's work to weaving the succulent strands of Music, Dance, Embodiment, Transformation, Connection & Community as an offering of joy & purpose. With the wide-spectrum of her creative-soul-driven offerings, her drive is to serve the (collective/individual) healing of the past, help midwife the emergent- juicy-present of transformative-cultures, all while keeping in mind the wider vision, for future generations to come.
Maegan/Alma is a DJ, Ritualist, Holistic-Coach, Open Floor Embodied-Dance Teacher, Creatrix, Weaver, Rebel-Shape-shifter & Mid-wife for the Soul: she has been studying and deepening her knowledge of the healing-realms for over 20 years, ALONGSIDE her passion & love for underground-transformational-culture, art, healing, (embodied) dance & ritual.
Maegan was the co-founder of Berlin-based Emergent-Collective Lucid, and in the 7 years of it's existence, she was the steward of this collaborative project: Dragon Dreaming was one of the backbones of Lucid's creational power, and even through the mistakes, pitfalls and triumphs, Maegan bows so deeply to the grassroots understanding of what it takes to steward a collective-project in this world.
The power of movement, the freedom of expression, the truth of our body's wisdom, and the beauty of authenticity are the pillars of her joy and work.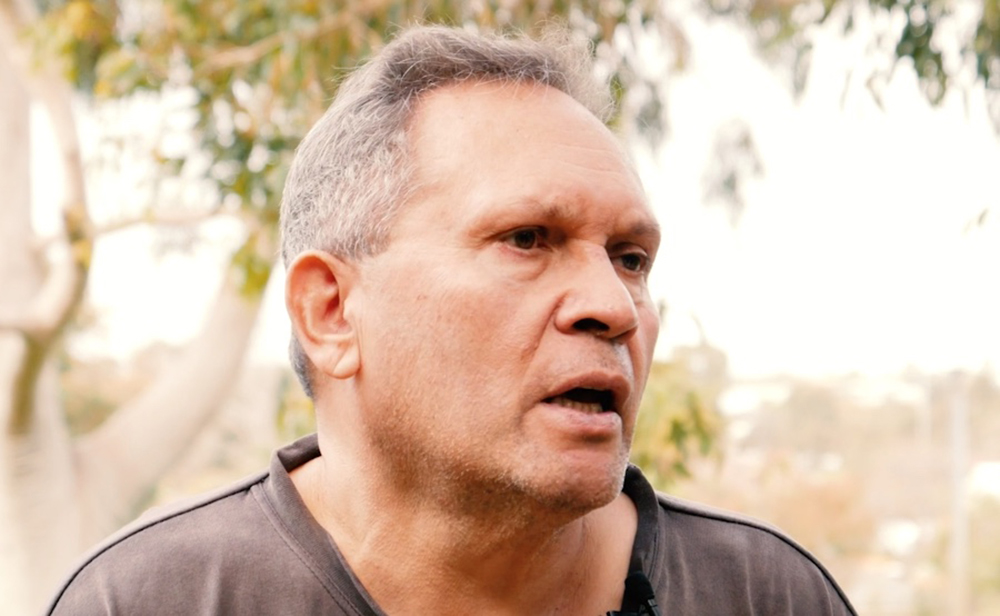 Tom Little, born 1958 Pinjarra, is an Elder of the Aboriginal Noongar people of Western Australia. His family belongs to the Bilyaduk Bindjareb people. He is a writer, musician and artist, who is bridging cultures and preserves Noongar language by projects like translating the Bible into Noongar language and fusing Aboriginal with Christian art.
Currently Tom is currently co-founding a Noongar Language Center in Perth, where he will share is knowledge about the Noongar language as head lecturer.
FAQs
Will the sessions be recorded?
Yes, we will record the sessions with focus on input/ less practice. Those are the sessions on the 9th (The Process), 12th (Aboriginal Source), 16th (Doing), 17th (Open Space).
Do I need to participate in all sessions to receive the certificate?
Sessions mandatory to participate in person due to high interaction are: Tue 8th (Opening), Thur 10th (Dreaming), Tue 15th (Planning), Fr 18th (Closing).
The rest of the sessions (see above) will be recorded and must be viewed within course time, to complete the course.
Exception: the dance-ritual on 8pm Saturday the 12th. Highly recommend. But not recorded and not mandatory.
In case of sickness, accidents and other unexpected situations we can talk about exceptions.
What's the cancellations policy?
Participants can cancel their enrollment in the course within 8 days before the course begins and receive a full refund, but 50,- Euro/Circles processing fee.
After 7 days or less, no refunds can be given. In that case it is possible to pass on your place to someone else, or save it as credit for participation in a future course.
Select tickets
This event started about 1 year ago
Your details
Feedback on Vanilla Way events